Coronavirus remote work development transforming industry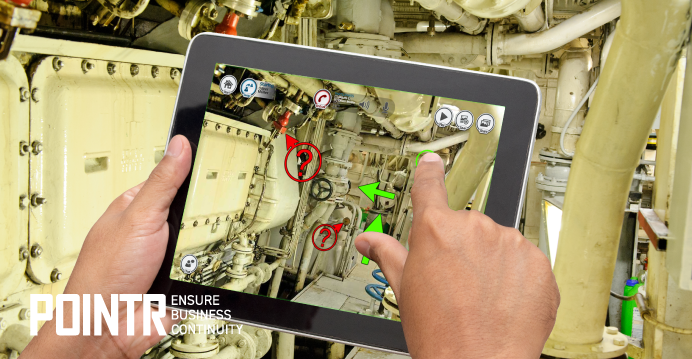 The coronavirus remote work development is changing industrial processes for good. Provider of an industrial AR app, Delta Cygni Labs, has already witnessed 400% increase in downloads in just two weeks.
Coronavirus is closing down factories and blocking professionals from traveling and gathering. The outbreak has resulted in airlines suspending flights to a growing number of destinations all around the world. Corporate travel bans being set up and practically locking down parts of the world in multiple continents. Within are areas where big and small multinational corporations have critical production units, component supply facilities and customers.
Hyundai, Foxconn, Airbus and Ericsson (The Wall Street Journal) have announced closing production and many others were withdrawing staff from China. As the pandemic continues spreading the infrastructure's and industrial facilities' service is already suffering. Companies with a practice of travelling to sites and customers have to turn around their processes in an instant. The coronavirus remote work push will be a major transformation for industry everywhere.
Industry analysts (Deloitte; Tech Trends 2017) have been predicting raise of Augmented Reality solutions for a while already. Tech for industrial AR has matured, awareness in organisations is raising, and business cases are proven beneficial. It seems, that the coronavirus epidemic is driving the adoption of industrial AR to the next level as part of the coronavirus remote work development.
The coronavirus epidemic brings companies to the question, whether to ask staff travel and risk infection and quarantine or not to send staff and risk damaging their business. The recent lockdowns and travelling restrictions make travelling to certain location impossible at the moment.
The incapability to travel took a lot of companies by surprise. Remote work has been introduced to industrial operations already long time ago. It seems to have taken such crisis as the coronavirus pandemic to seriously start shaking up the old processes.
The coronavirus outbreak forces companies to solve issues remotely and find all means to avoid travel. This development has impacted directly Delta Cygni Labs, a company offering remote collaboration tools for industrial use.
"What we have seen during last two weeks, is far beyond what we saw during 2019. It is obvious that travel bans force companies to look for alternative ways of working. But this has been really fast development, I have to admit", states Ilmo Lounasmaa, COO of Delta Cygni Labs. "Our app downloads have increased by 400% in just two weeks time. This trend started in last week of January and we decided to start a campaign to help companies adapt the current situation. We are offering the remote collaboration service without charge through Feb 2020".
Business drivers for AR remote collaboration tools are clear. Typically corporations using AR video collaboration for remote support are reporting 3-4x productivity improvements. With an AR powered collaboration tool, the field technicians and experts spend their time solving the issues, not traveling around. This situation with the active pandemic
"One of our customers reported, that they could fix 80% of their reported technical problems remotely with the help of our tool. Previously the number was close to 50%", Marko Kuula, Head of Sales, comments.
The POINTR solution is globally whitelisted remote video collaboration solution designed for industry. Made to support field engineers and powered by AR, POINTR brings immediate help to companies with global operations. POINTR is built for harsh conditions and field work. It is used in 125 countries by +20 000 users.
All it takes to start using POINTR, is to download and register. It's ready to launch and call within minutes.
Let's keep everyone safe during this virus outbreak. limit the infection, collaborate remotely.
Download 
https://pointr.com/downloads/
User instructions available www.youtube.com/deltacygnilabs
We comply fully with GPRD.
Corporate license inquiries
+358 40 553 2244
marko.kuula@deltacygnilabs.com
www.pointr.com